Awards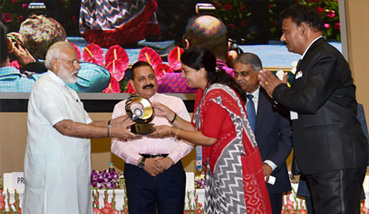 Nizamabad Mandi Selected for effective implementation of reforms for strengthening the e-NAM
(File Photo: Department of Agricultural Marketing,Telangana receiving the award from Prime Minister Mr. Narendra Modi for Best Performance of Nizamabad Mandi in eNAM along with Mandi Secretary)
The Nizamabad Agriculture Market yard was selected for the national level award for the effective implementation of reforms for strengthening the electronic National Agriculture Market (eNAM). District Collector received the award from the Prime Minister Mr. Narendra Modi at a function held in connection with the Civil Services Day celebrations in New Delhi on April 21, 2017.
read more
eNAM is the flagship programme of the Central Government and the district secured very good recognition for being in the forefront in the execution of the project. The Collector has taken special interest on it to plug laxities in the project implementation resulting in the easy access to nationwide trading for farmers avoiding middlemen.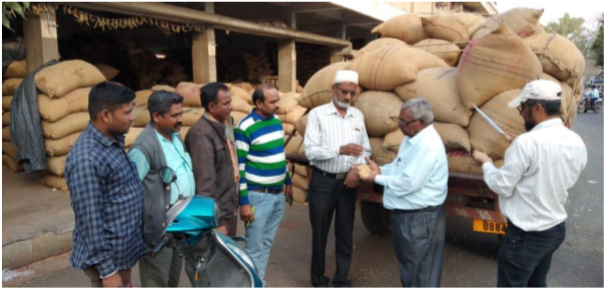 GFPCL at Modasa in Gujarat helps farmers realise higher prices through eNAM
Girimala Farmers Producer Company Ltd. (GFPCL) is formed to serve small & marginal farmers in villages around Modasa, Gujarat. Currently the company is working in 26 villages with 980 members of Meghraj and Malpurblocks of Aravali district. Company's primary objective is to increase income and employment of member farmers through strengthening their present livelihood.
read more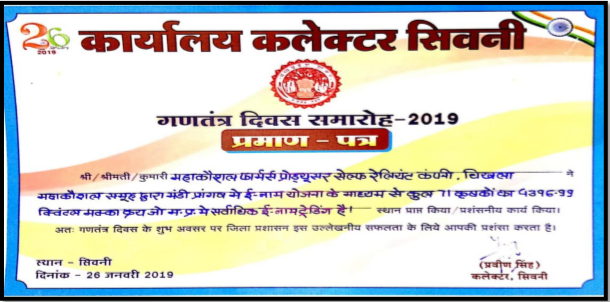 Better prices obtained by MPFSRPCL farmers through eNAM
Mahakaushal Progressive Farmers Self Reliant Producer Company Ltd. (MPFSRPCL) is registered at Chikla village of Seoni district in Madhya Pradesh. It serves 3000 farmers from 29 villages in Seoni. eNAM mandi professional Shri Manoj Patle at Seoni attended Kisan Sammelan of MPFSRPCL to create awareness about eNAM & it's benefits to farmers. The interaction developed interest amongst the MPFSRPCL members and they requested their officials to learn more about eNAM.
read more