Payment/Weightment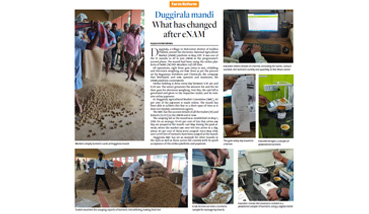 Duggirala mandi what has changed after e-NAM
Duggirala mandi what has changed after e-NAM: Duggirala, a village in the Guntur district of Andhra Pradesh, joined the electronic National Agriculture Market (e-NAM) platform in May 2017. It was one of the 10 mandis in AP to join e-NAM in the programme's second phase. The mandi had been using the online platform of NeML (NCDEX eMarkets Ltd) till then. All operations, right from gate entry to exit, e-bidding and electronic weighing are now done as per the process of e-NAM. Now it operates and maintains the e-NAM platform countrywide. Online bidding is done every day between 9.30 am and 11.00 am.
read more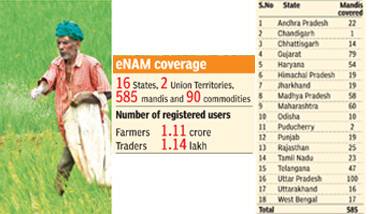 Slowly but steadily, the e-NAM platform is taking root
Total of 585 mandis have been covered; 85% of these have assaying labs. The target for the number of mandis to be covered under e-NAM in the first two years in 585 mandis across 16 States and two Union Territories was achieved in March 2018. So far, inter-mandi trade has started in Andhra Pradesh, Telangana, Chhattisgarh, Haryana, Uttar Pradesh, Uttrakhand, and Madhya Pradesh. Work has also begun on setting up assaying labs in each mandi and putting in place the logistics network.
read more