Process Related Improvement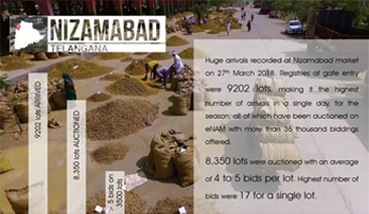 HIGHEST COMMODITY ARRIVALS OF INDIA (NIZAMABAD MANDI)
The Agricultural Market Committee, Nizamabad came into existence under Hyderabad Market Act on 29-01-1938. As per the A.P. Markets Rule 1966, the Notified area of Agricultural Market Committee, Nizamabad comprises on the following (06) mandals, notified market area is 20 km radius around the Agril. Market Committee, Nizamabad. It has 68.00 Acres of land where all the required amenities are provided for the use of stakeholders i.e., Farmers, Commission Agents, Traders, and other market functionaries.
read more
Crop Arrivals: Major commodities notified by the Market committee are Paddy, Maize, Turmeric, Soyabean, Onion, Pulses, Oil Seeds, Amchur & Others.
Implementation of e-NAM: For the start of e-NAM, awareness and farmer orientation programmes were organized at all administrative levels. Widespread publicity was given through conduct of meetings, gram sabhas, distribution of pamphlets and information brochures, audio-visual aids and through print, electronic media.
Teams of officers drawn from agriculture, marketing and revenue were formed at all functional levels with the active involvement of public representatives. Three district level, six divisional level, and 30 Tahsil level training programs were organized for farmers on the availability of facility at the market yard.
District administration has taken up several brains storming interactive sessions with stakeholders of the market yard. During these sessions concerns raised by the stakeholders have been listed out and a three-phased action plan involving several reforms was evolved. While making surprise visits to the market and interacting with farmers, traders and officials.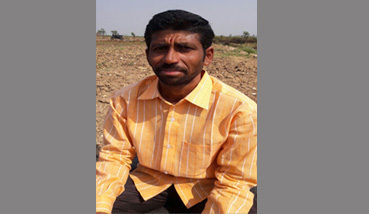 A NEVER BEFORE TRADE EXPERIENCE
MuskuVidyasagar, Resident of the velkatoor village, Balkonda Mandal, Aged 45 years old. He owns Seven (7) acres of land and is having 20 years of experience in agriculture and agriculture marketing. He cultivates Paddy, Maize, and Soybean crops
read more
Sri. Vidyasagar has been a seller in the market yard Nizamabad for last 15 years and all through, he was made to perform sale activity through Commission Agents. He has been a witness to open manual auction, Electronic, e-NAM, and e-NAM (Direct Purchase) modes of selling in the market yard. He witnessed weighment of produce on beam scales to automatic electronic weighing machines.
Further, as he narrated that "he never had access to prices of commodities of other markets" and he used to stay back in the market yard for two to three days till completion weighment and wait 20 to 30 days for receiving his payment as there was total lack of transparency in price realization and deductions made by commission agents.
It was understandable that he was made to sell his produce at the rate offered by the local purchaser, never offered clarity on deductions made and the purchasers have been offering lower rates showing the reason of the presence of high moisture content in the Agriculture produce brought by him.
Vidyasagar sold 26.16 quintals of soya white in e-NAM (Direct Purchase center) saved an amount of Rs.1427.00 through additional commission and Rs.1501.00 by way of reduced hamali charges. On a quantity of 26.16 quintals, he received a benefit of an amount of Rs.2929.00 in a single transaction of produce worth Rs 70,000.00(approx). Thus, by selling away his 270 quintals of Soya Vidyasagar has become richer by more than Rs 30,000.00 off his agri produce in 2016, which otherwise would have gone to fill coffers of Commission agents. Further, he received the payment for the produce within 24 hours of selling through online transaction.
Vidyasagar expressed his happiness and gratitude in delightfully stating that "it was a never before market experience walking away home with more money than the expected in a hassle free transaction on the same day of selling, which I never even dared to dream of. He further expressed that he realized the importance of producing quality produce and adopting better post-harvest practices for discovering higher price per produce. Thanks to e-NAM and District administration".